The Latest Cap•A•Cooz Nooz

Over the last few years bottle openers have been popping up everywhere. On the bottom of flip flops seems like a good idea until you step in dog crap that first time. The bike rack for my car is outfitted with them as well. But it's easy to keep a bottle opener in a car anyway. But a koozie with a bottle opener built in is ingenious.

Have you ever seen something so practical, it begs the question, "Why didn't I think of that?" Cap-A-Cooz is one of those somethings. The creation affixes a metal bottle cap opener to the base of a drink-insulating coozie, forming a seemingly destined alliance.
Winston-Salem Monthly magazine on Cap•A•Cooz and it's beginnings.

Independence days: Out on their own, Triad, NC Entrepreneurs Take on the Recession.
Read about Cap•A•Cooz and other new businesses in the Triad area that have started during the recession.

100% American, 20% Off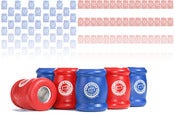 Cap•A•Cooz is celebrating its American Made Pride this 4th of July with it's biggest sale of the year, with 20% off everything in the online store. Cap•A•Cooz also has a special Independence Day 6-Packer with 3 Red & 3 Blue Cap•A•Cooz, for a limited time.
Use the
USA20
code at the
Cap•A•Cooz store
to get the biggest discounts of the year.
The Posh Little is in tune with what dad's want for Father's Day... get 'em a Cap•A•Cooz!
Trust us. He'll love it.

See why TailGateLot.com named Cap•A•Cooz, their off-the-cuff "Winner of this year's Why Didn't I Think of That Award".
Thanks for the praise guys, we'll be sure to celebrate Quality Control with some Cap•A•Cooz and a cold one!

For a limited time only, Cap•A•Cooz 2-Packs will be available for $9.99, a $2 savings off the regular price. The Super Bowl 2-Packs are themed for the Yellow & Black of the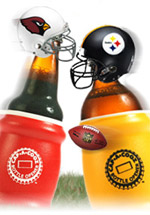 Pittsburgh Steeler and the Red & White of the Arizona Cardinals.

Valentine's Day 2-Packs are a great alternative to the traditional candies and trinkets and feature combinations of Red and Pink Cap•A•Cooz, for his and hers varieties. Split a 2-Pack together or get your Valentine a pair for the house, the boat or the the tailgate!
[Cap•A•Cooz 2-Pack Special Details]



Times-News of Burlington, NC Feature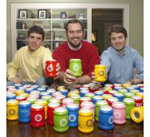 Cap•A•Cooz was featured on the front page of the Region section of the Times-News of Burlington. Read a few quips on the Cap•A•Cooz and how the originals were partially funded and brought to market using the Economic Stimulus Plan. Plus, you get to see a picture of three very good-looking guys!
[Burlington Times-News Jan 16, 2009 Article]




Customized Cap•A•Cooz Now Available in Smaller Quantities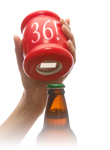 You can now order custom Cap•A•Cooz in quantities as low as 36pcs (down from 72pcs)!
This lower quantity should satisfy a need for those smaller situations many of you have asked about such as bachelor & bachelorette parties, personalized boat Cap•A•Cooz and smaller scale give-aways for our business clients.
[Custom Cap•A•Cooz Now Available in 36 Qty]






Facebook Page

Check out the Cap•A•Cooz Page on Facebook to stay up on even more news, photos, videos, updates and events!